Had an amazingly slow breakfast at the
hotel
, but at least I got a rubbery waffle and a one egg
omelette
(with no fillings) for my 45 minute wait. I also had an interesting conversation with an couple who had strong opinions about
Rihanna
,
Scientology
,
Tom Cruise
, and
John Travolta
.
Crossed the
Mississippi River
from
Natchez
into
Louisiana
.
Stopped at a very nice
Louisiana State Welcome Center
in
Vidalia
.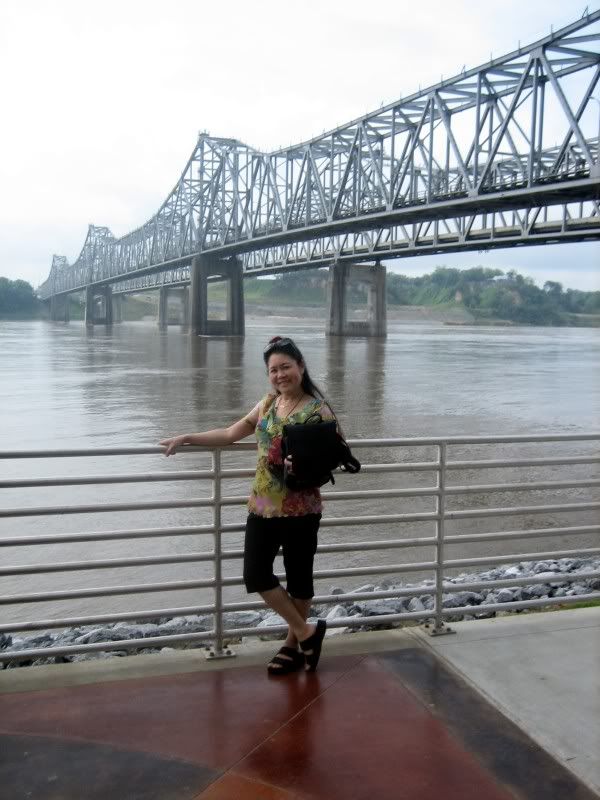 After a leisurely four hour drive, I arrived at
Avery Island
(via
Alexandria
and
Lafayette
).
Avery Island
is, of course, the home of
Tabasco Sauce
. I stopped at a rather humorous
toll house
(on the right side of the road) where a
friendly
Cajun
man passes you a
pamphlet
then collects your
one dollar
using a long stick with a
clothespin
at the end. After paying the
toll
, you cross a "
bridge
" about 15 feet long (which you really may not recognize as a bridge). Avery Island has two primary attractions:
Tabasco Sauce
, the
McIlhenny family
, and
Avery Island
. After the video, you walk through a viewing area above a
bottling line
in the factory, and then to a display area. Each visitor gets several free
mini-bottles of Tabasco Sauce
.
The
Tabasco Country Store
has a special meaning to me, because it is featured in one of my favorite
slot machines
. I spent a lot of time in the store looking at many Tabasco and spice themed items which I had not seen before. I made half of a meal at the free tasting bar and then ate an order of excellent
Crawfish Étouffée
at the picnic tables outside. I could not resist a few souvenirs from the store, including some
Tabasco Earrings
,
Tabasco Potholders
,
Tabasco Refrigerator Magnets
, and some
Spicy Pickles
. I found the Tabasco Factory tour and Country Store very enjoyable and worthwhile.
After all the time I spent in the store, visiting the
Jungle Garden
was not really an option as it was approaching 5 o'clock. I stayed at a
Best Western Hotel
in
New Iberia
which was quite nice (and only about $61 + tax using a coupon from a hotel book which I picked up at the welcome center). One interesting thing about this hotel was the notice placed prominently in the room:
I was quite happy that I did not receive any calls during my stay about gas leaks.